DSRF Taekwondo Students Impress at Canadian Championships
CTFI hosts its First Adapted Taekwon-do Canadian Championships
VERNON, BC – On May 6, 2023, Taekwon-do practitioners from all over Canada descended upon the beautiful city of Vernon, British Columbia to participate at the 2023 CTFI Canadian Taekwon-do Championships. This year's event was held at the ice rink of Kal-Tire Place where the frozen floors subdued the heat and fury of the battles that raged above its surface. The stakes were even higher because the winners of each divisions will be invited for the World Championships in Finland as Team Canada members.
A heartwarming addition to this year's event was the first ever Adapted Taekwon-do competitive divisions of Solo Patterns and Mixed Abilities. These competitors showed the crowd that they are not disabled, they are "differently-abled." Provided opportunities, these athletes showed that they can excel, succeed, and inspire.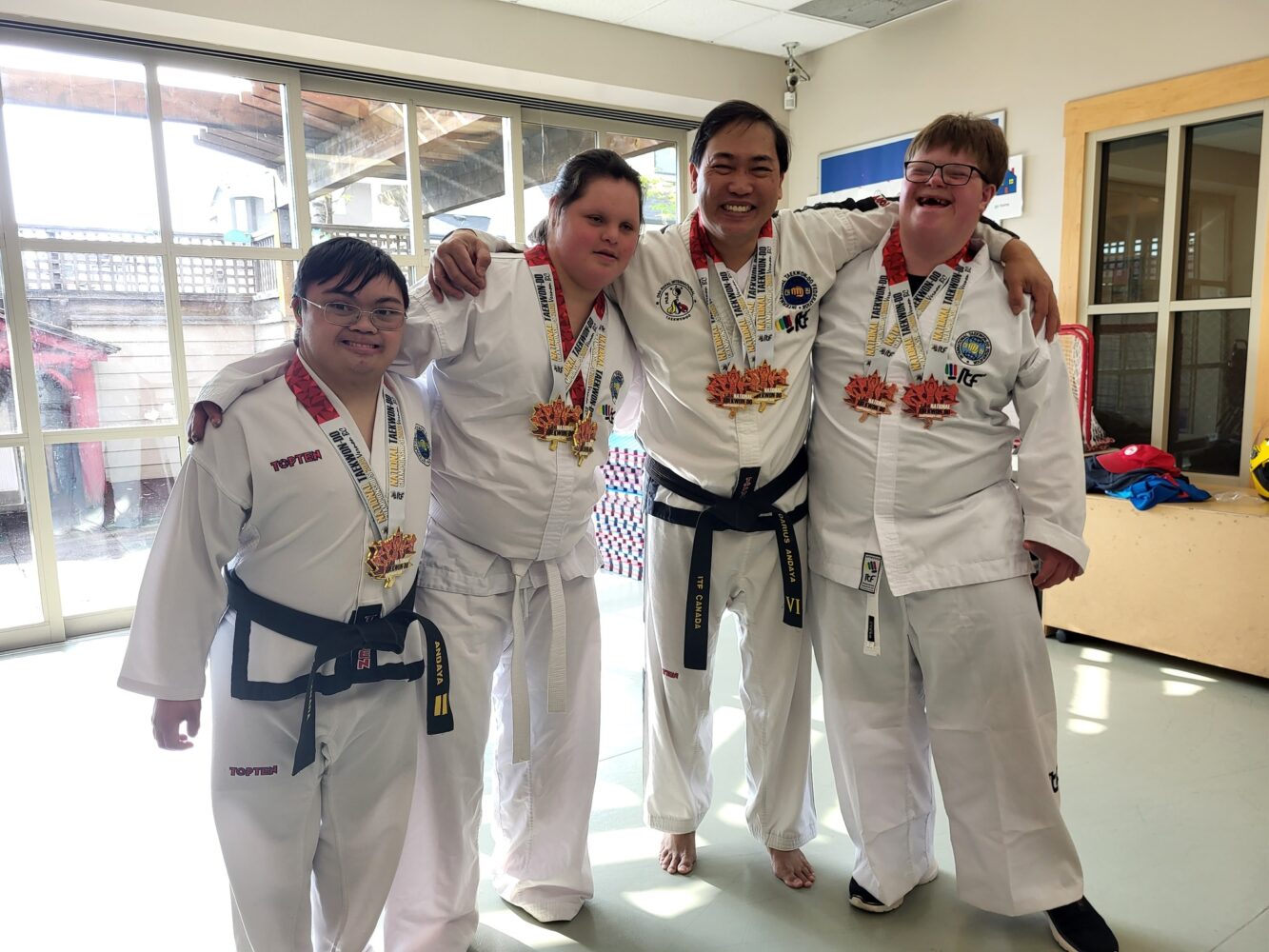 Fresh from wins at the British Columbia Provincials, athletes from the Down Syndrome Resource Foundation's Taekwondo for Beginners program came to Vernon to show the whole of Canada what they can do – and perform they did! Riley Romero came up with great performances in two events, receiving gold medals for both for the coloured belt category.  Mr. Darryl Andaya, 2nd Dan, was unchallenged in his event, but nevertheless showed an awesome performance of Eui Am and even included a weapons demonstration in his mixed abilities event. Both National Champions train under Mr. Darius Andaya, VI dan of DSA Taekwon-do.
"It is my hope that more instructors can develop and integrate their own adapted programs within their current taekwondo classes and give these outstanding students a chance. All you need is patience, time and a caring attitude. They can learn at their own pace," says Mr. Andaya, who has been advocating for the adapted competitive divisions since 2013.
Inclusivity is one of the philosophies embedded in Taekwon-do. General Choi Hong Hi, founder of Taekwon-Do specifically identified that we must be willing to teach everyone "willing to learn regardless of religion, race and ideology."  Andaya is positive he meant to include "abilities" in that list.
Register now for the 2023-24 session of Taekwondo for Beginners.