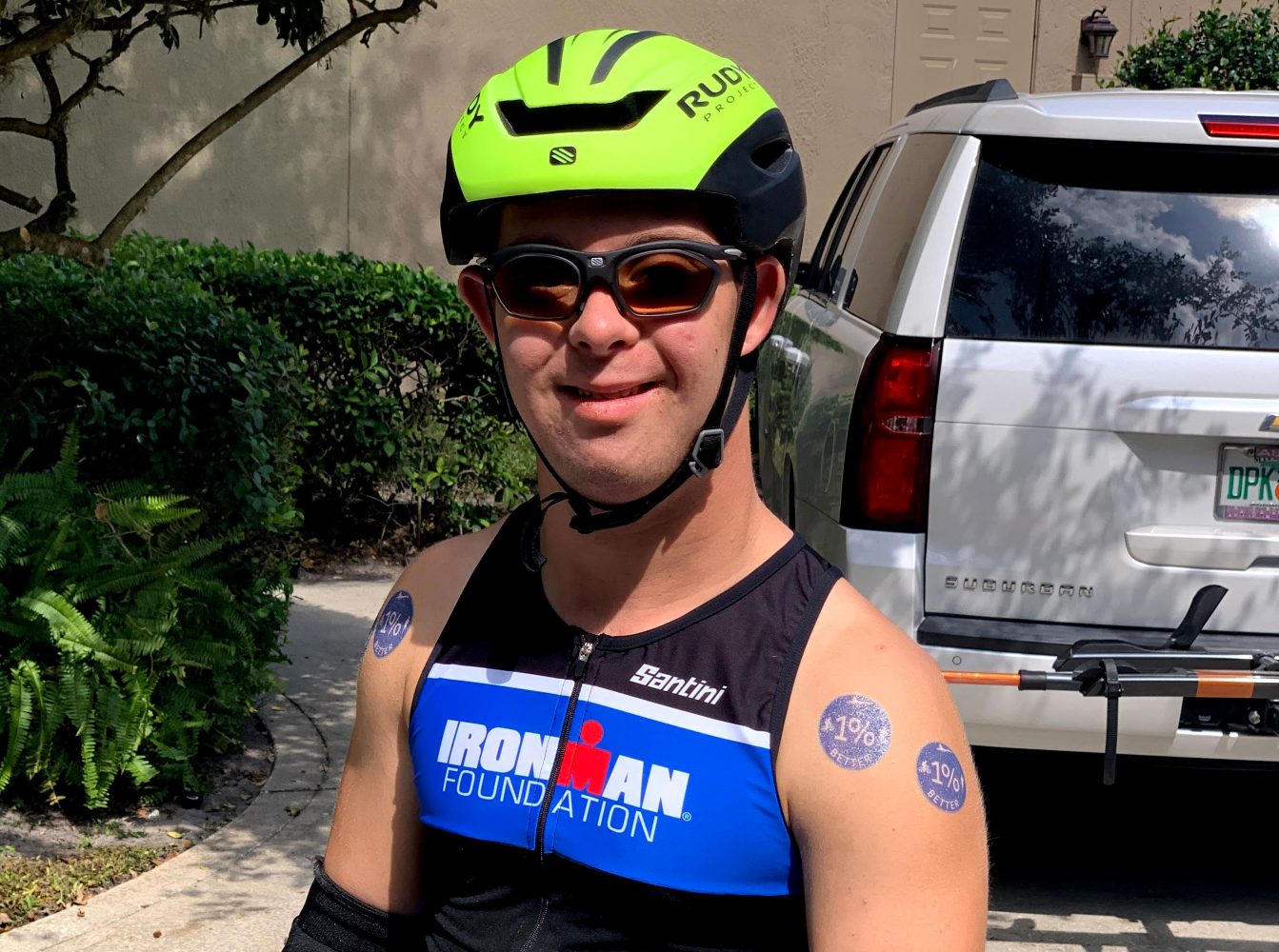 An Interview with Chris Nikic
Reprinted from 3.21: Canada's Down Syndrome Magazine (Issue #6: Celebrating Our Connections). Click here to download the full magazine.
Last fall, in the throes of a global pandemic, the world was captivated by a much happier story when Chris Nikic became the world's first athlete with Down syndrome to become an Ironman. Chris has inspired thousands of people – those with disabilities and those without – to get off the couch and reach for their dreams.
3.21 Magazine had a chance to chat with Chris and his father Nik. Below they tell us about their "1% Better" philosophy and all that went into Chris' incredible accomplishment.
3.21: Let's start at the very beginning, Nik. Describe Chris' early development. What was it like teaching him skills like walking, swimming and riding a bike?
Nik Nikic: It was very difficult. Everything was so hard and took so long to learn, even the most basic things. He didn't learn how to ride a bike until he was 15 and that took six months of practice before he could balance himself.
3.21: What were your hopes and dreams for Chris as he was growing up?
NN: In hindsight, they were pretty limited. We had accepted the lie that our son could not achieve much. We wanted a normal life for him, but didn't believe it was possible. Now we believe anything is possible.
3.21: Chris, growing up, were you always interested in athletics? What sports did you enjoy?
Chris Nikic: Basketball. I love to play basketball. I don't know why; I just love it. Maybe because I watched my sister and I wanted to be like my sister Jacky. I beat my dad every day. I also enjoy golf. One of my goals this year is to break 80 in golf. I'm practicing multiple times a week outside of my Ironman training.
3.21: For those who aren't familiar with the Ironman competition, what does it consist of?
CN: Ironman is a 140.6 mile do you want to note these in Kms, for example (225.3 km), 17-hour event with a 2.4 mile swim, a 112 mile bike ride, and you finish it off with a 26.2 mile marathon run.
3.21: Of the three components – swimming, cycling and running – which is your favourite, and which is the most challenging?
CN: My favorite is the run. The most challenging part is the bike. Sitting for eight hours makes my hands and butt hurt. I have to work extra hard for it because I have poor balance, and it is also hard to train for eight hours at one time.
3.21: Tell us about your progression towards becoming an Ironman. Did you compete in other events before entering the Ironman?
CN: In March 2019 I competed in a Special Olympics sprint triathlon and the gap between me and first place was 75 minutes. I competed again in August 2019 at the state championships and I finished last, but the gap was only 25 minutes. In January 2020 I did a 33-mile Olympic distance, and on May 9 I did a half Ironman, which was my true test. The real race was cancelled because of COVID-19, so we just decided to schedule our own for that same day. I finished it in 8 hours 25 minutes.
3.21: You started out in Special Olympics, but eventually you also began competing in mainstream athletic events. Why was it important for you to take this step?
CN: It was important for me to take that step to show others like me that we can do the impossible one year, and then next year we can do something even more amazing. This will help them believe they can do it too. The best thing I can do for others like me is be an example, show them that we can do anything if we are willing to work hard and get 1% better each day, and that we are capable of doing more than one thing.
3.21: What is it about the Ironman challenge that appealed to you?
CN: I wanted to be a world champ at something so on New Year's Eve, my dad asked me to write down my dreams. I wrote down that I wanted to buy my own car, buy my own house and marry a smoking hot blonde like my mom. I also wanted to show others like me that we can do anything as long as we focus on our dreams. So, my dad got me to focus on my dream, and that has helped me to achieve my goal of doing an Ironman. I like triathlon events because they are fun, but Ironman was a way to get my dreams.
3.21: Describe your training regimen leading up to the competition.
CN: I train three to eight hours each day, six days a week. Over the course of those six days, I run three times, bike four times, swim four times, and do strength training three times. Plus, I do stretching and recovery every day.
3.21: Nik, how did you encourage Chris to keep up with this grueling routine?
NN: By doing it with him and making everything fun. We found ways to make it fun, reward him for his efforts and help him keep growing.
3.21: During the race, were there times you felt like giving up? If so, how did you keep pushing forward?
CN: At mile 40 on the bike, I got attacked by fire ants. My leg swelled up and it was painful, but I kept going. Then on mile 50, I crashed my bike and I was bleeding and in pain, but I kept going. The hardest part for me was mile 10-13 on the run. The pain was really bad. Everything hurt. I was ready to quit, but my dad came, gave me a hug and asked me, "what's going to win: my fake pain or my dream?" I said, "My dream," so I kept going and my angels took me to the finish line.
3.21: Describe how you felt as you crossed the finish line.
CN: I was tired, in pain but happy it was over. I was excited to hear Mike Reilly say, "Chris Nikic, you are an Ironman." That was amazing.
3.21: Nik, what did it mean to you as parents to see Chris accomplish something so monumental?
NN: It means that he can live a life of independence, take care of himself, have a family and live an amazing life. It also means he can help others like him and other parents like us to believe in their children's future.
3.21: Chris, how did the other racers respond to you?
CN: They were so happy and supportive of me. They all came and hugged me and told me they were proud of me.
3.21: What personal qualities were most important in enabling you to achieve your goals?
CN: Being a boy with Down syndrome who had big dreams! Because doing Ironman means I can do anything, I can get my dreams, I can be included in everything. I also love spending time with people and making new friends. The people and the races are so much fun that I will do the work. My best quality is I don't quit. Other people quit when the pain comes; I don't quit. I keep going.
3.21: What does it mean to you to be the first Ironman with Down syndrome?
CN: It means that no matter the obstacles, you can accomplish your dreams if you're willing to work hard. It means proving to others like me that we can do what others can do, and being the first means showing them anything is possible.
3.21: Do you plan to compete in more Ironman events in the future?
CN: Yes, I am competing in the championship Ironman in Kona Hawaii in October 2021. I will also do some other events to prepare for that race like a half marathon, a full marathon, and a half ironman.
3.21: Your story has generated international interest. What kind of opportunities have come your way since the race?
CN: It's been freaking amazing since the race, I'm so blessed. Special Olympics has been amazing. They made me a Champion Ambassador and gave me the Florida Hero award. They invited me to the USA Games and I got to meet Governor DeSantis. Ironman has also been amazing. They offered me a global ambassadorship and invited me to compete in Hawaii. Plus, they did an NBC documentary about me. Disney gave me a hero's welcome, and Universal gave me a private VIP tour. The Tampa Bay Buccaneers gave me a special football, and Orlando City Soccer gave me special recognition. Sports Illustrated nominated me for Inspirational Story of the Year. I got a book offer and a sneaker deal – and Guinness gave me a new world record! This has also given me the opportunity to become a motivational speaker. I can now use my story and speaking ability to share a message of awareness and inclusion and hopefully help make the world a little better by being a good example of what is possible.
3.21: You are an inspiration to so many people, and especially to others with Down syndrome. What would you say to somebody who is working to achieve a major goal?
CN: I did not do anything spectacular. I just got 1% Better every day for two years and I went from couch to Ironman. So, anyone who wants to accomplish something great, you just have to be willing to be consistent for a couple of years and you can do amazing things. The easiest thing to do is quit. The hardest thing to do is just keep improving every day. I used my dream to keep me going. If you want to do something big, then start by writing down a BIG dream and look at it every day. Never take your eye off your dream.
3.21: Nik, what have you learned as you have seen Chris achieve his dream?
NN: We learned that individuals with Down syndrome can achieve amazing things but their potential has been locked by the world's perceptions and limitations. We have learned that anything is possible for someone who is willing to get 1% better every day and work hard for their dreams.
3.21: Last word to Chris. Now that you've proven that you can accomplish anything you set your mind to, what are your goals for the future?
CN: This year I will learn to drive my own car, but my next big goal is to do Ironman Hawaii. In 2022, I want to do the Special Olympics USA games. In 2023, I want to do the World Games in Germany.