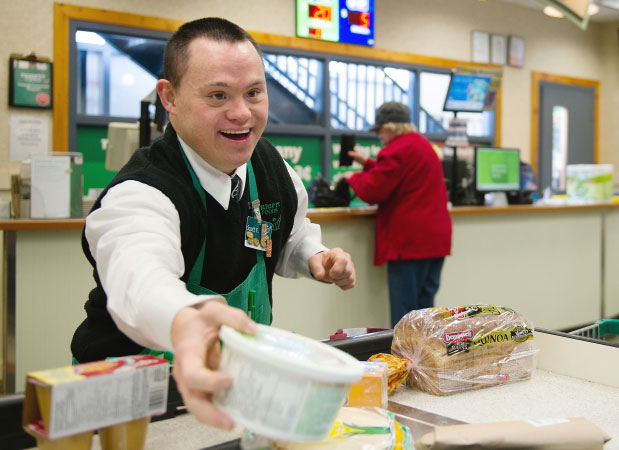 An Inclusive Employment Success Story
Scott Fattedad is something of a celebrity in his small town of Tsawwassen. Wherever he goes, he's sure to bump into any number of friendly faces very pleased to see him – most of them belonging to customers he's cheerfully served at one of his three jobs.
Scott's primary job is at Thrifty Foods, where he's been a popular team member for 16 years. "My main duties are front end customer service, such as packing groceries for customers," he explains. "I empty the recycle bins, take returns to the back, and put new bags in the bins. I also work in produce, usually bagging vegetables and putting them out."
After completing school, Scott took a job preparation course at Kwantlen College, and they arranged various work experiences for him. Towards the end of this program, Scott had set his heart on working at Thrifty's, and Kwantlen made the introduction. It's been a great fit for both employer and employee.
Scott's mother Mary Lynn wholeheartedly endorses this approach to transitioning from school into employment. She suggests that parents enroll their son or daughter in a program that provides training, job experience, and assistance in deciding what they wish to do. "Some of the programs also provide a job coach for awhile, which can be very helpful for both the employee and the employer," she notes.
Scott agrees. "You need to get training on the job and take some training first, but don't be scared to take your resume to places you would like to work. Always make sure you are clean and dressed appropriately when job seeking – and SMILE!"
Starting a new job has its challenges for all of us. Scott recalls his biggest hurdle being learning all the safety rules and procedures for his job, but says he knows most things now. That's due in no small part to Thrifty's positive, proactive approach. "We all learn differently," emphasizes Scott's manager, Laurie Jaggard. "We train, communicate, and coach" – just as you would do for any new employee.
Mary Lynn remembers a couple of challenges in particular. "Scott worked from 10-2 with only a 15-minute break, but he wanted to eat some lunch. This made him late getting back to the floor. I discussed allowing him extra time to eat and just having him stay longer at the end of his shift, and the manager agreed. He also used to get more hours, but the store cut back. We were able to help Scott successfully advocate for a few more hours on another day."
Any accommodations that Thrifty's has made have been well worth it. Laurie says that Scott brings an invaluable positivity to the work environment, which rubs off on other team members. "I love everything I do – especially being friendly with all the customers and my co-workers," says Scott. "And I like earning my own money!"
"He loves going to work and it gets him moving and out of the house… he might just sit and play video games otherwise!" says Mary Lynn. "Also, the extra money enables him to purchase things he wants and pay his own way. Because he lives at home and pays less rent than he would otherwise, he has been able to save for holiday trips and recreational programs."
Just as valuable as the money is the impact on Scott's personal well-being. "I think having a job, even a few hours per week, really helps a person feel valued and helps their self-esteem immensely," says Mary Lynn. "Plus, they often become great ambassadors for others with Down syndrome or other developmental disabilities."
Scott's advice for individuals with Down syndrome just starting out on their employment journey? "Just keep on trying and don't be afraid to ask for help."
As for his employer, Thrifty's is quick to endorse inclusive hiring practices. Asked why they chose to employ an individual with Down syndrome, Laurie answers without hesitation: "The better question is, why would you not?"
The Inclusive Employment Success Story series is co-presented by the Down Syndrome Resource Foundation and Canadian Down Syndrome Society.