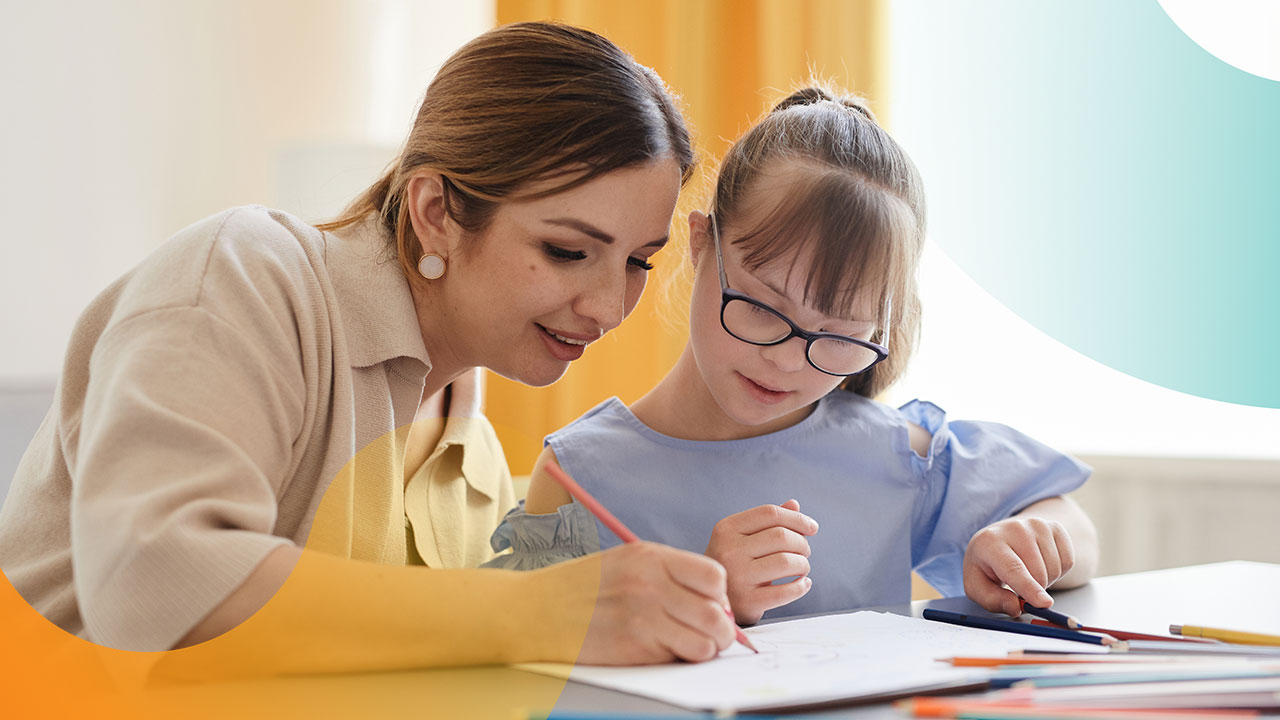 Embracing Success: Educating Students with Down Syndrome
Embracing Success is a one-day conference for educators taking place on Oct 20, 2023 in Nanoose Bay, BC. The conference is presented by the Greater Victoria Down Syndrome Society in partnership with DSRF.
This one-day conference is designed especially for educators including classroom teachers, resource teachers, education assistants, and other professionals who work in the school setting with an emphasis on providing knowledge and strategies that can be applied in the classroom and school setting to support students with Down syndrome and other developmental disabilities. Learn from the Down Syndrome Resource Foundation's experienced multi-disciplinary team including teachers, speech and language pathologists, occupational therapists, comprehensive sexual health educators, and behaviour consultants. Join us in person or take part virtually!
Schedule
8:45-9:30 Registration
9:30-10:50 Setting Events: Influences on Behaviour and Success in the Classroom (Dr. Susan Fawcett)
Children with Down syndrome's behaviour in the classroom depends on many factors, including ones that can be difficult to spot! In this session, we will build educators' awareness of setting events that are unique to children with Down syndrome, and how these impact their behaviour. We will also outline ways to combat the effects of these events, and to set the stage for successful learning.
10:50-11:10 Coffee Break
11:10-12:30 Optimizing Communication in the Classroom (Marla Folden)
Teachers and Education Assistants play a crucial role in establishing the language learning environment for children with Down syndrome at school. In this presentation we will discuss the language and speech characteristics we often see in people with Down syndrome. General strategies to help students understand what you say and express their wants and needs will be discussed.
12:30-1:30 Lunch
1:30-2:50 Math Instruction for Learners with Down Syndrome (Andrea Lee)
Join us to explore how the unique learner profile of learners with Down syndrome impacts how we teach math. Discover the benefits of using a balanced approach and the importance of making math meaningful and engaging by using students' interests and connecting classroom instruction to practical application.
2:50-4:00 Networking and Coffee/Tea/Cakes Social
Join our speakers for an open discussion on the topics presented or other areas of interest and network with your fellow educators while enjoying some treats.
Speaker Bios
Susan Fawcett, PhD, RSLP
Susan began her career at DSRF as the head Speech-Language Pathologist from 2003 to 2019, and helped develop the therapy, adult, and summer programs during that time. She has been thrilled to watch the therapy and teaching team and programs grow vastly since she started. Getting to know families over a long period of time and having a blast playing with the children she sees are Susan's favourite aspects of her job. While enjoying a sessional teaching position in the education department at SFU, Susan encouraged the students to be more involved, and several of these students have become DSRF volunteers or staff. Susan has particular interest in the areas of social communication, mental health and problem behaviour in people with Down syndrome, as well as giving families the positive reinforcement they deserve. As part of completing her doctoral degree with Dr. Joe Lucyshyn in the Department of Educational and Counselling Psychology and Special Education in 2020, she completed a dissertation project evaluating a preventative parent training program for families of young children with Down syndrome who exhibit mild-to-moderate problem behaviour. During her schooling, Susan also completed a two-year practicum with a clinical psychologist at the Vancouver CBT Centre, where she learned how to provide cognitive-behaviour therapy techniques to adolescents and adults with developmental disabilities and mental health diagnoses such as depression and anxiety.
Marla Folden, M.Sc. RSLP
Marla completed her Masters of Science at McGill University in Speech-Language Pathology. While attending McGill, she ran a research project about intensive speech treatment for teens with Down syndrome and childhood apraxia of speech. She greatly enjoys working with individuals with developmental differences, and worked at the DSRF as a programs assistant and instructor prior to returning to school to study Speech Pathology. Marla values a client centred approach to treatment, and enjoys supporting families and individuals of all ages. Marla is delighted to be a part of the DSRF therapy team, and offers individual treatment and assessments. Marla is also the co-host of The LowDOWN: A Down Syndrome Podcast.
Andrea Lee, M.Ed.
Andrea (she/her) has been teaching at DSRF since 2015. She received her Master's in Education in Montessori Methodology and Children with Exceptionalities at Loyola University in Maryland.
Previously, she graduated from the University of British Columbia with a Bachelor of Arts in Sociology and Classical Literature. Andrea is a BC Certified Teacher who taught for several years in Montessori elementary schools and worked as a research assistant for the Department of Education at UBC. At DSRF, Andrea has taught Reading and Communications Plus, Money Math and Budgeting, Social Communication and Navigation (SCAN), Raise Me Up, and Gaining Relationships and Occupational Wins (GROW), as well as One-to-One Reading and Math for students age 3 and up. She completed Option's Sexual Health Educator Certification and now offers comprehensive sexual health education to small groups, families, and one-on-one.