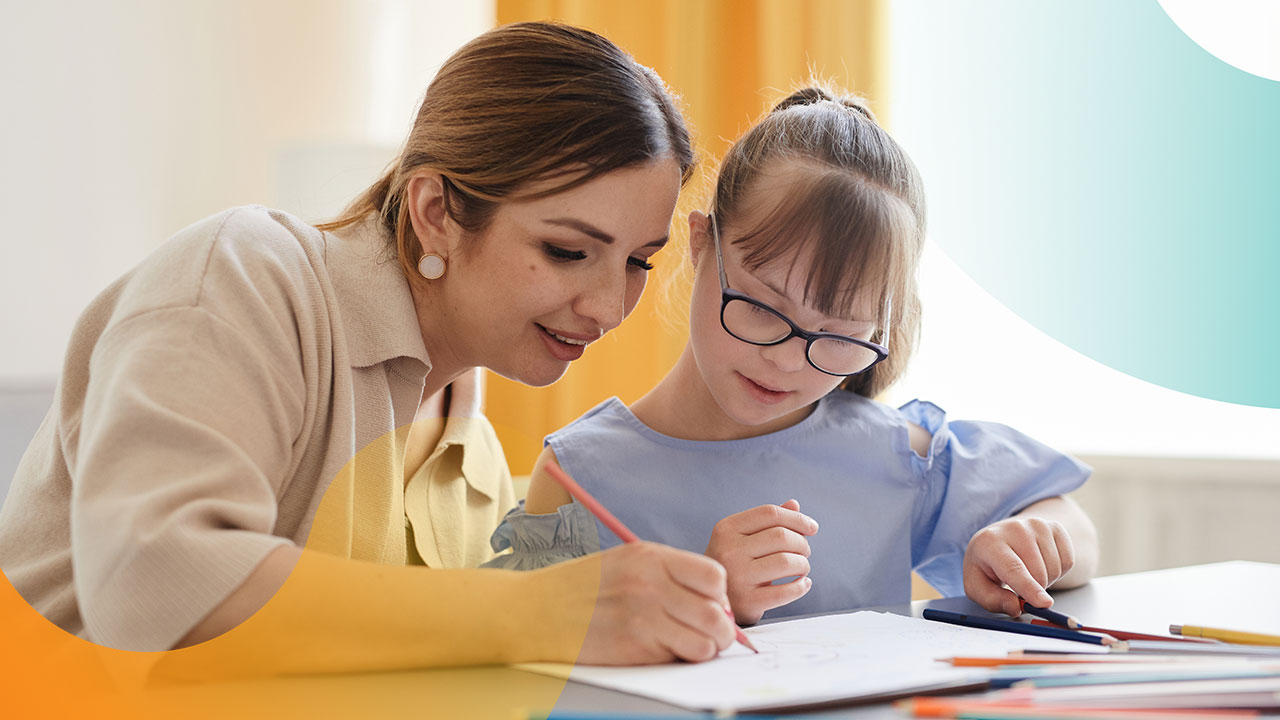 Embracing Success: Educating Students with Down Syndrome
Embracing Success is a one-day conference for educators taking place on Oct 21, 2022 in Sidney, BC. The conference is presented by the Greater Victoria Down Syndrome Society in partnership with DSRF.
This one-day conference is designed especially for educators including classroom teachers, resource teachers, education assistants, and other professionals who work in the school setting with an emphasis on providing knowledge and strategies that can be applied in the classroom and school setting to support students with Down syndrome and other developmental disabilities. Learn from the Down Syndrome Resource Foundation's experienced multi disciplinary team including teachers, speech and language pathologists, occupational therapists, comprehensive sexual health educators and behaviour consultants. DSRF staff will be on hand throughout the day to answer your questions.
Schedule
8:15-9:00 Registration + Continental Breakfast
Plenary Sessions
9:00-10:15 Learner Profile of a Student with Down Syndrome (Hina Mahmood, M.OT)
Participants will learn what we currently know about the overall characteristics and learning style of people who have Down syndrome, and how we can effectively apply this knowledge. The impact of health factors, cognitive development, and physical and sensory needs will be discussed.
10:15-10:30 Coffee Break
10:30-12:00 Top 10 Positive Behaviour Support Strategies (Sara Peralta, M.Ed., BCBA)
Positive Behaviour Support is a values-focused, evidence-based approach to addressing problem behaviours. The presentation will introduce common positive behaviour support strategies for students with Down Syndrome who engage in emerging challenging behaviours in school settings. Context surrounding these challenges and the misconceptions often associated with students with Down Syndrome will be covered. We will also incorporate a group activity for educators to complete at the end of the presentation.
12:00-1:00 Lunch
Breakout Sessions
1:00-2:00 Early Literacy and Math: Key Concepts for Learners with Down Syndrome OR Foundational Concepts in Comprehensive Sexual Health Education: Where to Start, Where to Go!
2:10-3:10 Totally Included: Augmentative Alternative Communication (AAC) Guide for Educators OR Applying Math and Reading Skills in Real Life
3:10-3:30 Coffee Break
3:30-4:30 Access Granted: Promoting Independence and Accessibility in the Classroom OR DSRF Multidisciplinary Panel
Breakout Session Descriptions
Early Literacy and Math: Key Concepts for Learners with Down Syndrome
The DSRF Teachers will share strategies for teaching key concepts to early learners with Down syndrome. Participants will leave this workshop with a better understanding of how to use their limited instructional time to make the most impact.
Foundational Concepts in Comprehensive Sexual Health Education: Where to Start, Where to Go!
Understand how concepts including basic body science, emotions, privacy, consent, and bodily autonomy can be taught at any age and why these topics are important in relationships, independence, and abuse prevention.
Totally Included: Augmentative Alternative Communication (AAC) Guide for Educators
Learn how and why AAC is effective for supporting students with Down syndrome. This presentation gives an overview of AAC use in academic and social interactions. Participants will leave with practical strategies that can be used right away in the classroom.
Applying Math and Reading Skills in Real Life
Generalizing skills learned in the classroom to everyday life can be a challenge for many learners with intellectual disabilities. This workshop will focus on skills learners need to know and provide suggestions for varied practice with the goal of generalization and independence.
Access Granted: Promoting independence and accessibility in the classroom.
Learn how to set your students with Down syndrome up for success with strategies to support independence and engagement in a classroom setting. This presentation will delve into physical, cognitive, and sensory needs, environmental and activity adaptations, and adaptive equipment.
DSRF Multidisciplinary Panel
Join this panel discussion for the opportunity to ask more specific questions and hear perspectives from our multi-disciplinary team.
Speaker Bios
Marla Folden, M.Sc. RSLP
Speech Language Pathologist
Marla completed her Masters of Science at McGill University in Speech-Language Pathology. While attending McGill, she ran a research project about intensive speech treatment for teens with Down syndrome and childhood apraxia of speech. She greatly enjoys working with individuals with developmental differences, and worked at the DSRF as a programs assistant and instructor prior to returning to school to study Speech Pathology. Marla values a client centred approach to treatment, and enjoys supporting families and individuals of all ages. Marla is delighted to be a part of the DSRF therapy team, and offers individual treatment and assessments. Marla is also the co-host of The LowDOWN: A Down Syndrome Podcast.
Andrea Lee, M.Ed.
Teacher + Comprehensive Sexual Health Educator
Andrea has been teaching at DSRF since 2015. She received her Master's in Education in Montessori Methodology and Children with Exceptionalities at Loyola University in Maryland. Previously, she graduated from the University of British Columbia with a Bachelor of Arts in Sociology and Classical Literature. Andrea is a BC Certified Teacher who taught for several years in Montessori elementary schools and worked as a research assistant for the Department of Education at UBC. At DSRF, Andrea has taught Reading and Communications Plus, Money Math and Budgeting, Social Communication and Navigation (SCAN), Raise Me Up, and Gaining Relationships and Occupational Wins (GROW), as well as One-to-One Reading and Math for students aged 3 and up. She completed Option's Sexual Health Educator Certification and now offers comprehensive sexual health education to small groups, families, and one-on-one.
Hina Mahmood, M.OT
Senior Registered Occupational Therapist
Hina is DSRF's senior OT and has been at DSRF since 2016. Prior to obtaining her degree she worked at DSRF for six years as the administrative assistant and volunteer coordinator, as well as a teacher's assistant for the Reading & Communication program. Hina is passionate about working with individuals of all ages who have special needs and values a collaborative approach. Hina is trained in the SOS Approach to Feeding and has given presentations on topics including toileting, increasing independence in school aged children, and executive functioning. She is also interested in how medical challenges, such as sleep apnea and digestive issues, affect learning and development for individuals with Down syndrome. Hina is also the co-host of The LowDOWN: A Down Syndrome Podcast.
Danielle McKinney, B.Ed.
Senior Teacher, One-to-One Reading Program
Danielle is a BC-certified teacher who received her Bachelor of Education in Elementary Education from the University of Victoria. She recently completed a graduate diploma in inclusive education at Vancouver Island University. Danielle has been with DSRF since 2011 and is the lead teacher. She has supported the development of literacy and numeracy skills for many children and young adults with Down syndrome and other developmental disabilities. Prior to joining the team at DSRF, Danielle taught at a private school for children with learning and developmental disabilities. Danielle enjoys the creative problem-solving process of teaching students with exceptional needs and is currently completing a Master's degree in inclusive education.
Sara Peralta, M.Ed., BCBA
Board Certified Behaviour Analyst
Sara is a Board Certified Behaviour Analyst (BCBA). She completed her undergraduate studies at the University of Calgary, and has a Master's degree in Education with a focus on autism and other developmental disabilities from the University of British Columbia. While completing her undergraduate studies, Sara worked at DSRF in the summer camp programs, and then later as a teacher assistant in the adult reading program. Sara was an assistant in Dr. Susan Fawcett's FC-PBS parent training program for families of young children with Down syndrome. She has worked as a behaviour consultant providing support to children in a variety of settings for several years. She is enthusiastic about family-centred positive behaviour support and believes that a collaborative partnership with families is key to effective treatment. She is excited to be part of the DSRF team and to support families and individuals of all ages.
Riley Rosebush, M.Sc. RSLP
Senior Registered Speech Language Pathologist
Riley completed her Master's degree in Speech-Language Pathology at UBC and began working at DSRF in 2012. She is passionate about supporting individuals and families at DSRF to develop their communication and feeding skills. She believes in the benefits of diversity in the community and helping people to participate in any activity they enjoy.