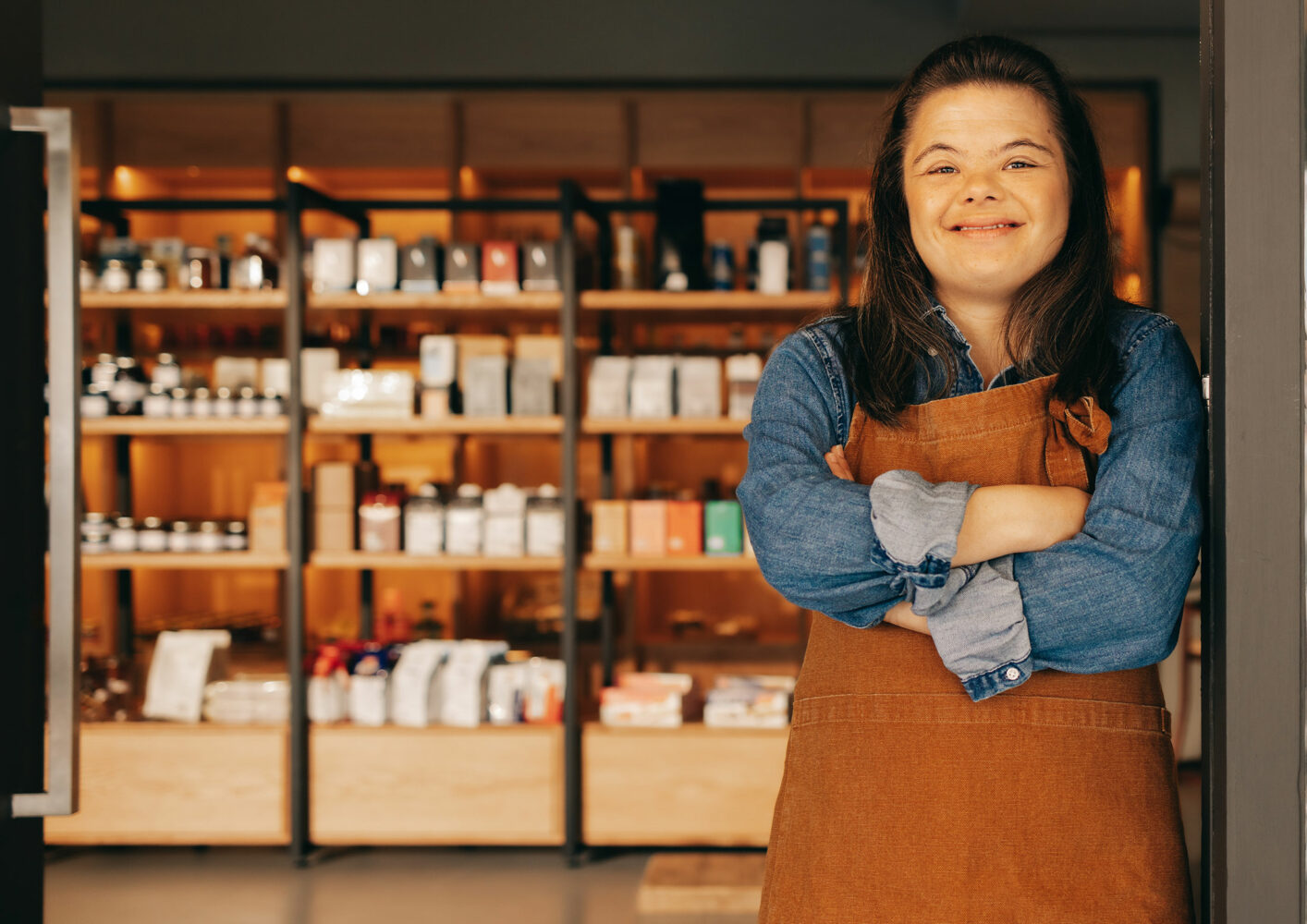 Finding Your First Job
By Aja Masters with Glen Hoos
Reprinted from 3.21: Canada's Down Syndrome Magazine (Issue #14: The Road to Employment). Click here to download the full magazine.
So, your loved one with Down syndrome is ready to roll up their sleeves and get to work. Good for them! Let's do this!
But… umm… errr…
*scratches head*
What now?
The road to meaningful employment is not well marked out. People with Down syndrome and other developmental disabilities are, sadly, one of Canada's most chronically underemployed populations. It can be hard to even know where to begin.
As an employment specialist with the Down Syndrome Resource Foundation, I've helped many families navigate this path and find their way to a rewarding destination. Let's explore it together – one step at a time.
Step 1: Pre-Employment Skill Development
Preparation for employment begins long before a person reaches the age of employability. Every skill we develop and every lesson we learn throughout life adds to the toolbox that we'll have at our disposal in future employment situations.
The skills that are necessary to find and thrive in a job are also beneficial in other aspects of daily life, so whether or not employment is the ultimate goal, helping your child, teen, or adult build these abilities will benefit them regardless of the path they choose.
Hard skills like reading, math, and speech are invaluable of course, and proficiency in these areas will widen the pool of job opportunities available to the individual. Most families work hard to develop these abilities, and it's also a major focus of the school system. That said, there are many jobs that are well suited to those with other strengths.
What we think of as "soft skills" can be just as, if not more important. The ability to cooperate with others as part of a team is essential to most jobs, and this is an area of great strength for many people with Down syndrome. Likewise, the ability to listen and follow directions, a willingness to ask for help when needed, and the initiative to be a self-starter are all marks of a good employee.
Personal qualities including flexibility, punctuality, time management, and good hygiene are valued by employers, and people with Down syndrome may need support in these areas. Likewise, social communication – appropriate workplace conversation topics, for example – is a vital skill to work on.
Step 2: The Job Search
A persuasive resume is an essential tool of every job seeker, and people with Down syndrome are no exception. However, depending on the individual, the contents of the resume might be a little different from what one might normally expect.
Some people struggle with not having a lot of education or work experience to list. That's okay! Focus on the skills that can bring value to an employer and highlight those. Any employer will tell you that they can teach job-related tasks, but they cannot teach character and personality. Show them why you are the kind of person they want on their team.
Before sending your loved one with Down syndrome out into the streets with resume in hand, take some time to help them think about their interests and skills, and what kind of jobs and employers would be a good fit. Where do they want to work, and why? What are they hoping to accomplish?
Finding suitable job opportunities can be difficult; expect it to take some time. Thankfully, increasing numbers of employers are instituting inclusive hiring practices, recognizing the incredible value that people with disabilities bring to their organization.
Start by reaching out within your own circles. Finding a job is often about who you know, and those who know us best know exactly what we have to offer. Personal networking is your friend: the person seeking employment, and their family and friends, should make it known within their circles that they are in the market for a job.
Consider reconnecting to prior work experience placements. If the individual has already had a positive experience with a particular employer, it is worth checking in with them to see if a permanent position might be available.
When it comes to cold calling, keep an eye out for companies that specifically say they hire inclusively, and watch for places where you see other people with disabilities working (especially chain businesses like grocery stores and restaurants). These businesses already have inclusive employment embedded in their culture.
That said, don't look specifically for job postings for people with disabilities. Don't close doors on yourself! Some employers may never have thought of hiring person with disability until you ask.
I recommend visiting employers in person and asking if they are hiring, rather than just sending an e-mail or submitting your resume online. It's too easy for them to ignore a message, while visiting in person demonstrates the kind of initiative that employers are looking for.
Step 3: Interviewing
Once you've got your foot in the door with a potential employer, the next step is acing the interview. To do so, preparation and practice are essential.
To create a sense of comfort, spend some time watching YouTube videos that show what to expect in an interview. Google the top ten interview questions and practice answering them together. Help them prepare to talk about themselves, their skills, their experiences, and why they want the job.
Find a friend or family member to roleplay the interview. In addition to answering the questions, practice eye contact, confidence, listening carefully to the question, and staying on topic.
In some cases, it may be appropriate to ask the employer if there is an alternative to a traditional sit-down interview. Some employers find a working interview useful, as it gives the candidate the opportunity to demonstrate that they can take instruction and learn the required tasks. Seeing is believing!
Step 4: Starting Work
Landing a job is a major milestone – but now the work really begins. What happens in those first few days and weeks can make all the difference in establishing a mutually beneficial long-term working relationship.
It is crucial to be clear up front about what is needed for the employee to be successful, such as visual schedules, written lists, special equipment, timers, etc. These accommodations should be in place from day one.
Start slowly, with short shifts and limited days. A new work environment and routine can be overwhelming, and it is best to allow time for adjustment. As the comfort level increases, working hours can be extended.
The employee should be encouraged to follow the example of other staff members. If possible, job shadowing is an ideal way for people with Down syndrome to learn the ropes and master the tasks they are expected to complete. They should also know that they are welcome to ask for help when they need it and be given access to a trusted adult they can talk to about their experiences at work.
Supporting Your Loved One on the Road to Employment
The role of a parent, sibling, or caregiver can vary based on what stage of the employment journey the individual is at, and the level of support they require.
I encourage parents to start talking about employment young, just as you might with a child who doesn't have Down syndrome. Don't wait until they're graduating high school; throughout childhood and the teen years, talk about different kinds of work they might be interested in when they grow up. Highlight the things they're good at and how those strengths can translate to a job.
Be their biggest cheerleader and boost their confidence at every opportunity. Encourage them to dream big – there are enough people in the world who will try to hold them back.
Think outside the box. We once had a student who had his heart set on being a doctor. As we dug a little deeper, it turned out that what he really wanted was to wear a white coat. He ended up getting a job cleaning test tubes in a science lab, where he got a white coat of his very own. Dream achieved!
When it's time to find and apply for jobs, encourage your loved one to do as much as they can on their own, with your support. As much as possible, allow them to be the one to speak with prospective employers, even if you are by their side to assist. This gives them the opportunity to demonstrate their abilities while gaining valuable experience.
You might also consider connecting with an employment specialist who can not only help with the job search process, but also serve as a bridge between the employer and the employee/family. Employment specialists help employers set up suitable accommodations, ensuring a smooth transition, and can also serve as a middleman for communication between boss and employee. My office door is open, and I would love to help you on your way!